Poetry

Slam

The first poetry slam ever in New York City was held at the Nuyorican Poets Cafe in 1989, and 20 years later, we've become part of the cultural history of this city, still going strong. Today's Nuyorican Poetry Slam is the result of our tradition of talented hosts, amazing performers and heart-stopping performances. Each one has helped to develop the legendary Poetry Slam reputation that is associated with the Cafe around the world. If you want to learn who these people have been, the years they participated, their contact info & lots more, please see Verbs on Asphalt, the authorized multimedia website that documents the whole story of Slam at the Nuyorican from the beginning.

Interested in slamming at the Cafe? See Slammin'@ the Nuyorican below.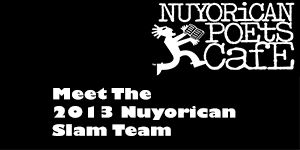 Tonya

Simone Ingram


Tonya Simone Ingram graduated from New York University with a Bachelor's degree in Social Justice Education Through Performance Poetry. She has been fortunate to perform at the New Amsterdam Theater on Broadway, the Cutler Majestic Theater in Boston, MA, the Apollo Theater, San Francisco Opera House, and Harvey Theater at the Brooklyn Academy of Music. She is the recipient of the 2009-2010 President's Service Award, the Lorraine Hansberry Arts, Performance, and Media Award, the 2010 New York Cares Volunteer Extraordinaire Award and the BBVA Leader of Tomorrow Award. She is also the 2011 recipient of the Cora Craig Author Award for Young Women and is working on her first book of poetry. She has represented NYU at the 2010, 2011 and 2013 College Unions Poetry Slam Invitational, and as the NYU Grand Slam Champ in 2010 and 2013. In addition she has represented herself at the New York Knicks Poetry Slam during 2010 and 2011. In 2011, she placed 1st winning a $10,000 scholarship and is also a member of the 2011 Urban Word -NYC poetry slam team that placed 2nd in the nation at the Brave New Voices International Poetry Slam Festival in San Francisco, CA. She is currently a member of the 2013 Nuyorican Poets Cafe Grand Slam team and will be pursuing a MFA in Public Practice in the fall.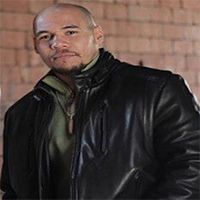 Thomas

"Tre G" Gilbert
2013 Grand Slam Winner
Born in Camden, NJ Thomas "Tre G" Gilbert is no stranger to struggle and harsh lifestyle associated with the rough streets of an inner city. After one of his uncles was shot 5 times and hospitalized Tre wrote an acrostic poem to his grandmother in hopes of brightening her spirits. And though it did not change the fact that one of her children might be taken from her too soon it did make her smile. It was then that Tre learned the affects words have on the human heart. He would later learn that words conveyed with the potency of raw emotion, sincerity and presented with the elegance of poetic language could provoke change not only in an instance or particular moment, but for a life time. It is this knowledge that has caused him to continue writing and performing across the country at colleges, halfway houses, and grade schools. In the past few years Tre G. has performed at the Brooklyn Academy Of Music (BAM) for the students of the New York City School District, at the Milwaukee Art Museum for the students of Milwaukee School District, Sanford Bates Halfway House, Levitt Middle School Burlington, NJ, Harrison High NJ, Rutgers University, Princeton University, Pace University, Empire State College, and was among a number of poets selected to appear on 3rd season of TV One's Verses & Flow. He has also won 2010 Loser Slam Grand Slam Champion, placed 6th in the world at the 2010 Individual World Poetry Slam, has been a 5 time semi-finalist and 2 time finalist and 2013 Grand Slam Champion at the world famous Nuyorican Poet's Cafe, and was apart of the Nuyo team that placed 2nd at the 2011 National Poetry Slam.
Mikumari

Caiyhe


Mikumari Caiyhe is an established actor, emcee, spoken word poet, and arts educator. A native of Washington, DC, Mikumari graduated from the distinguished Duke Ellington School for the Arts, with a focus in Theatre. He completed his formal education at Mason Gross School of the Arts at Rutgers University, as an Acting major. As an artist, Mikumari has toured internationally; most recently acting in the musical "Revelations" in the role of God/MC and displaying his poetic gift in London, England, being one of the first emcees to ever do a Hip Hop concert at Shakespeare's Globe. As an educator and arts advocate, Mikumari is independently contracted by The New Jersey Performing Arts Center (NJPAC), Boys And Girls Club of America, and The YMCA to facilitate art residencies and workshops teaching literary arts, acting, and ballroom dance. Finally, it is Mikumari's ambition to use art to liberate individuals from fear, emancipate and empower the light within and... ILLUMINATE FOREVER



This

Month
Wednesday Night Slam Open> Sign Up & Slam
Every Weds Night except first Weds of the month.
9pm>$8 admission
The first 20 poets to sign up will slam & the winner of this night is eligible to perform in the Friday Night Poetry Slam. Get there early & sign the book. Hosted by Jive Poetic
The Nuyorican Friday Night Poetry Slam
Every Friday Night>@10pm> $10 admission
Current Schedule:
Dec 13>$10
Dec 20>$10
Dec 27>$10
Jan 3>$10
The Nuyorican Friday Night Poetry Slam is pretty popular and fills up fast, so please get in line early. (suggested arrival latest 9:15pm). Hosted by Mahogany Browne.
Note: Semi-Final Slams>$13 Admission (5 times a year, see schedule)
Grand Slam Finale>$15 Admission (yearly event, usually April, see schedule)
If you are interested in becoming a Friday Night Slam Spotlight, please send samples of your work both written & recorded (MP3 or provide video links, etc.) to slamspot@nuyorican.org
The Open Room
Every Friday Night after the Poetry Slam> approx. 12:30am
Admission>$5 (Free if you stay after the Slam)
The Open Room is a Nuyorican poetic institution that happens right after the Friday Night Poetry Slam. Anyone can read one poem at the mic and every kind of poet and poetry is welcome. There are no judges and no numbers. Hosted by 2007 National Slam Team member, Advocate of Wordz.
Slammin'

@ the Nuyorican

Poetry Slam @the Nuyorican is truly poetry of and by the people. Winners of any Nuyorican Poetry Slam are chosen entirely by our varied audience members; a continual stream of changing faces, ages and backgrounds that make up New York City on any given night. Audience judges are not required to have any special skills or history and that's what always makes our slam so exciting and unpredictable.

Many Poetry Slammers have begun their careers in either the Wednesday Night Slam Open or the Open Room. Some will come back and compete many times before winning a slam, so keep on coming! 2008 National Team member, Rico Steal, began his career at the Nuyorican in the Open Room and didn't quit until he was slamming on Friday Nights!

Winner of Wednesday Night Slam Open is eligible to compete in a Friday Night Slam. If you win a Friday Night Slam, you are eligible to compete in one of the five Semi-Final Poetry Slams that happen throughout our Slam season.

If you win a Semi-Final slam, you will become one of five poets to compete in our yearly Grand Slam Finale, which generally happens in April. The winner of that slam takes the Grand Slam Champion title for that year and immediately qualifies to be on our National Team. The rest of our yearly National Team comes out of three Run-Off Slams, which happen after the Grand Slam Finale. We send these team members to compete yearly in the National Poetry Slam. To learn more about our National Teams through the years, click here.

Spotlight Poets are featured before the Slam each Friday Night and are curated by the Nuyorican SlamMaster.

Have more questions about becoming a Poetry Slammer @ Nuyorican?